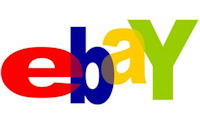 One of the most popular ways to make money online is by selling on eBay.com! If you haven't heard of eBay, then you must be living under a rock, because even if you've never bought or sold anything on eBay, I'm positive that everyone knows it exist.
What Is eBay?
eBay.com is an online auction and shopping website in which people and businesses buy and sell a broad variety of goods and services worldwide.
How Does eBay Work?
Here's how eBay works:
*A seller lists an item on eBay, it can be anything from antiques to cars, books to sporting goods. The seller then chooses to accept only bids for the item (an auction-type listing) or to offer the Buy It Now option, which allows buyers to purchase the item right away at a fixed price.
*In an online auction, the bidding opens at a price the seller specifies and remains on eBay for a certain number of days. Buyers then place bids on the item. When the listing ends, the buyer with the highest bid wins.
*In a Buy It Now listing, the first buyer willing to pay the seller's price gets the item.
Here are a few things you should have before considering selling on eBay:
– A digital camera to take pictures of the item you are selling.
– A verified PayPal account to receive payments.
– Access to a printer to print shipping labels.
How Can You Make Money Selling On eBay?
You might be thinking; "Well, I don't know the first thing about selling… so how can I make money selling on eBay?"
Or you might even wonder; "What should I sell on eBay?".
Chances are, every single one of you reading this blog post has something you can put up for sale on eBay. The good thing about eBay is they accept used items as well, and believe me when I tell you people actually buy it! Whether it's some clothes you have lying around that can no longer fit you or that you'll never wear. Or whether it's some old CDs that you're ready to throw out. Regardless of what it is and how much you think it's junk, someone would be willing to buy that "junk" on eBay! If you cleaned up your home, you could have a garage sale online with eBay.com!
eBay's website is so easy to follow, that you do not need any type of selling experience. The power of the internet, and "keywords" have made it so that you do not have to find the customers to buy your products, but instead, they find you!
After signing up at eBay.com, they will guide you through step by step, on how to list your item for sale.
Tips For Selling On eBay
1. Research the item you are selling. Find out how it's currently going for brand new in the stores. Search the item on eBay and see if any others are selling that item and how much they are charging. Then formulate the price of the item you're selling, based on those two things, and the condition of your item.
2. Use the Shipping Calculator provided on eBay. Calculate the cost of shipping the item and decide if you are willing to cover those costs yourself, or if you'd like the buy to pay these costs. There is a section on eBay, when listing your item for sale, that allows you to input "shipping cost to buyer".
3. Take good quality pictures. eBay allows you to insert 1 picture of the item for free, and for each of the others, you are required to pay a fee of $0.15. In order to avoid this fee, upload your pictures for free on places like Photobucket.com. Then include the HTML code they provide you with, in the item description on eBay.This way you can include as many pictures you like for free.
4. Write a good title and description of the item for sale. Be sure your title has keywords that describes exactly what the item is. If something is wrong with the item, such as it's ripped or stained etc., be sure to clearly state that. If someone is still interested in the item, they will purchase it regardless. If you sell the item without mentioning it was damaged, your customer will leave you negative feedback. You want to keep a good seller rating on eBay, since this will encourage more people to buy from you.
5. Act professional. Answer emails in a timely and polite manner. Follow the rules of eBay, and make sure your customers are satisfied. This will translate into increased sales and more money.
So what is my reason for talking about eBay today? Well I recently started selling on eBay myself! I've had my account for a while now, but I've never brought myself around to sell anything. I thought it was too confusing with the whole shipping and all that. I was afraid to sit down and figure it out.
Well last month, I put up a $25 iTunes gift card that I really had no use for at all. I started the bidding on it at $20, and ended up selling it for $23!
Here is my PayPal payment proof below. Click on it for a larger view.

It says I received $22.03, because of the PayPal fees that were taken out of the payment.
However, that's still $22.03 for a gift card that I would have never used! That twenty bucks would come in a lot more handy to me, than the gift card ever would. Imagine if you did this with everything you had around your house that you don't need or use! You could make a good few hundred dollars just from selling "junk" on eBay.
eBay is like my newest addiction now because I have tons of stuff lying around my house that I never use. I listed a Elie Tahari Rory Shopper Fur Handbag for sale yesterday, and I plan to list a few more things as time goes on.
This eBay payment brought my total earnings online to $12,321.07!
Get started selling on eBay today, and turn your "junk" into cash! "One man's trash is another man's treasure!"

My real name is Reanna but around the web, especially in the MMO (make money online) world, I'm referred to as TriNi. On this blog, I aim to teach people that it CAN be done; that there are legit and 100% free ways to make money online.