Slipped in the snow AGAIN yesterday and hurt my back really bad this time! Grr I'm such a klutz but it really hurts. Couldn't make it to work for two days but now I have no choice cuz I can't stay home again tomorrow.

Wish me luck. Let's hope I survive the day and not break anything… that's if I haven't already! Sure feels like it!
Anyways just thought I should do a little update since I got to payout on cashcrate! I must admit it definitely took me longer this month than usual. Maybe it's because of everything that's happened to me since the year started — being sick for a whole week, falling down TWICE! I haven't had as much time to be online as I'd like.
Imagine, Cashcrate joined Twitter yesterday and now Cratey has his own Twitter page that will update members on special promotions and bonuses available to them. They gave away $1.00 bonus but I got online too late and missed it! I did get the 25 bonus points tho so it wasn't all a lost! I actually have enough points to redeem a giftcard! But I decided to accumulate some more and go for a more valuable one later on!

Here's a screenshot of my current earnings.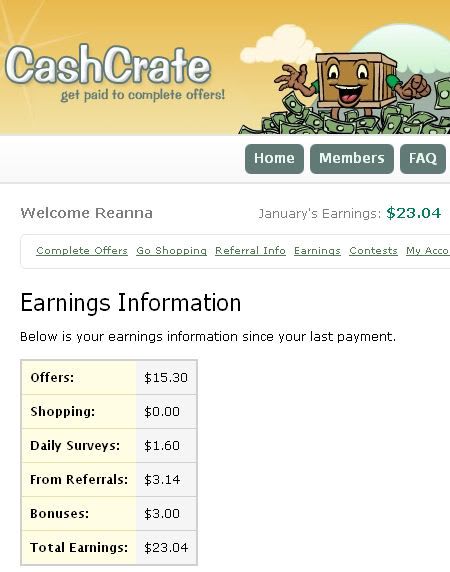 If you have Twitter.. feel free to add me, or follow me, or uhh.. however it works. LOL. I'm not exactly sure.. I just joined. Here's the link to my page! TriNi's Twitter Page
Guess that's all for now. Going to get me some rest.. I really need it.

My real name is Reanna but around the web, especially in the MMO (make money online) world, I'm referred to as TriNi. On this blog, I aim to teach people that it CAN be done; that there are legit and 100% free ways to make money online.