This is my 3rd update today when it comes to making money online free, I'm on a roll.
I also received an IM Report Card payment!
This site has been one of my biggest earners, but not only so, I've also learned a lot about internet marketing from others who have had more experience than I have when it comes to different products and services and sites, and even people in the "make money online" industry. I really enjoy reading their opinions and reviews and also sharing mine, not to mention, earning some extra cash for doing so.
This is my 22nd payment from this site and it brings my total earnings online to: $3846.66!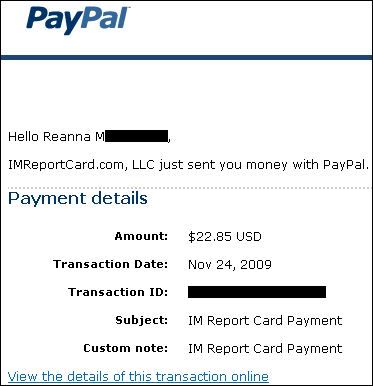 My real name is Reanna but around the web, especially in the MMO (make money online) world, I'm referred to as TriNi. On this blog, I aim to teach people that it CAN be done; that there are legit and 100% free ways to make money online.