What's better than coming home to a check in the mail? That's the feeling I got last Monday which was actually my first day back at my real job. What an awesome way to kill the "Monday back to work blues". This payment from Logical Media for $139.45 definitely cheered me up.
What is Logical Media?
Logical Media is an affiliate marketing company. I've talked a bit in the past about how I have been using affiliate marketing to make money online. I highly suggest you check out the following articles that I have written in the past which go into detail about how affiliate marketing works.
● How To Make Money With Affiliate Marketing?
● How Can You Learn Affiliate Marketing?
● Using Affiliate Marketing To Make Money Online.
● Affiliate Marketing – Your Road To Financial Freedom.
In each one of these articles, you will find a common theme of "hard work and perseverance".
Affiliate Marketing is not easy, but don't let that discourage you. You can read and learn about it and how it works and how you can make money from it. I didn't have a personal coach. I didn't take any special class. I just Googled my questions and read bit by bit from here and there online, and applied what I read to this blog that I created. After 2 years of hard work, I am reaping the rewards of being able to get paid from various affiliate marketing companies. It's definitely paying off as a good passive income.
Like I always say, if I can do it, so can you.
Here's the letter that came with my first payment from Logical Media.
And here's the actual check.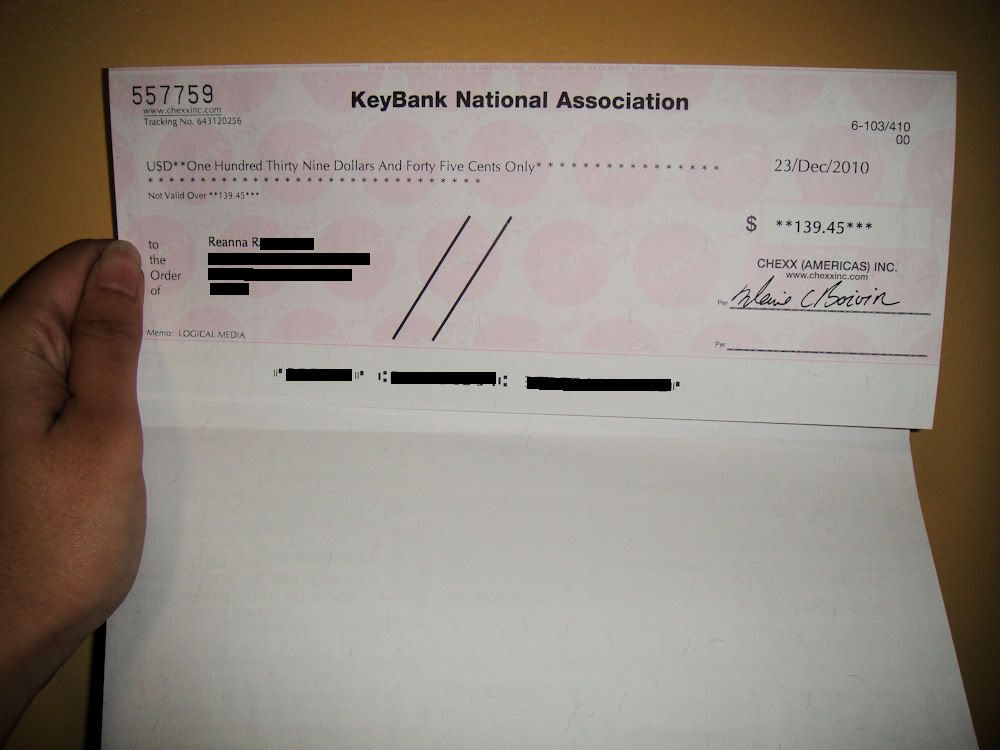 The best thing I have found about this company, is that they have some exclusive campaigns that are not found on any other affiliate marketing program. These campaigns are usually really popular, and so it's not hard to bring traffic, or get clicks or sign ups to them. Therefore, it's easy to make money with these campaigns. This was one of the main reason I joined this program.
Now one thing that I don't like about Logical Media is the fact that their payments are so delayed. Payments are made to you 60 days after a months accrual. Meaning if you accrued $100 in January, you will be paid April 1st or thereabouts.
It definitely sounds like an extremely long time to wait, BUT I have to say, when you're more relaxed about it and not rushing to be paid, the time seems a lot less. I really was not even expecting this payment.. I did sort of a "set it and forget it" type of campaign for this company, and over time, the money added up and I was paid eventually. If you decide to go with this affiliate marketing company, Logical Media, I suggest you do the same.
This payment brought my total earnings online to: $11,662.45!

My real name is Reanna but around the web, especially in the MMO (make money online) world, I'm referred to as TriNi. On this blog, I aim to teach people that it CAN be done; that there are legit and 100% free ways to make money online.