So many people look for ways to make money free on the internet. I mean, if you have a computer that has internet access, why not earn extra money with it? One of the easiest ways to make money online free, is by clicking ads.
Yes you heard me right!
You can get paid in CASH, just for clicking and viewing an ad which takes about 5 seconds of your time.
You already view ads online free anyway, so why not get paid to do it?
So here's my best recommendation for a quick easy way to make money online from right at home!
Why?
YouData is the best PTC site! <- Click the link to read why and how it works! During the month of May, because I had so much stuff going on, I sorta lapsed with posting proof of payments. So here are the past few payments I've received from this PTC site.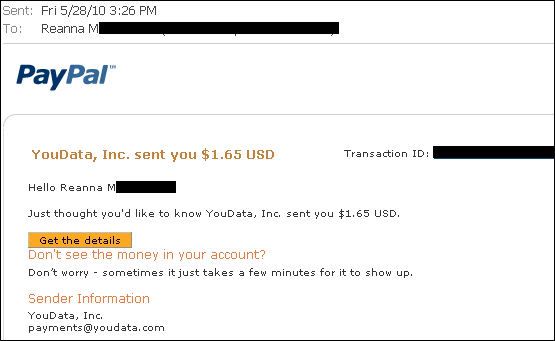 These 6 payments add up to $8.34 and bring my total earnings online to $6967.42!
I just want to add, that many people reading this might think well 8 bucks isn't a lot of money. I want more! Well more is definitely possible as well! Maybe not with this site or by clicking ads, but everyone has to start somewhere, and this is a great place for you to start to realize that with a little effort, making money online is definitely possible!

My real name is Reanna but around the web, especially in the MMO (make money online) world, I'm referred to as TriNi. On this blog, I aim to teach people that it CAN be done; that there are legit and 100% free ways to make money online.