Here are some payment proofs I've gotten in the past week or so. My schedule has been so tight that I no longer have the time to post them individually as soon as I get them, but I would like to keep the purpose of my blog going and update you on all the money I make online for free. So here goes…
Today I got paid from SquishyCash.com! I've been a member of this site for a while now, and I currently rank it as one of the best GPT site around! They have contests that run every single day where you can earn and win more money. There is a helpful forum and very active and helpful shoutout box for immediate help on the site. The layout might seem confusing at first, but take just a few minutes to get the feel of it, and you'll realize that everything important is right there on the "dashboard", just a click away. This payment is for $22.61 and as usual, I've already posted it on their forum for my $1 bonus!
I've also gotten a payment from Pinecone Research which is my absolute favorite survey site! There are several posts throughout my blog about why this is my favorite, but for a quick run down of how you can get paid to take surveys on Pinecone Research, read: Pinecone Research is one of the best survey sites!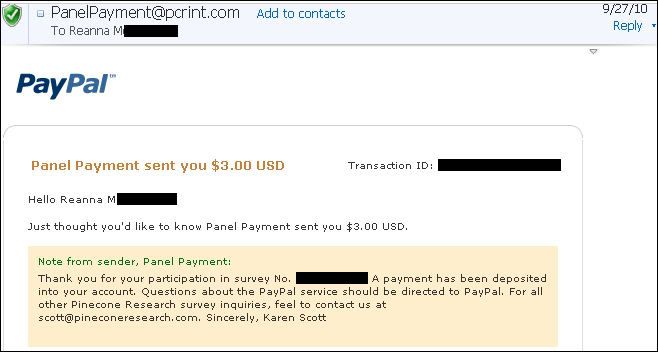 Here's another small payment I received as well. YouData is the only PTC site that I remain a member off, only because they pay much more per ad than other PTC sites. It isn't at all time consuming, and in fact, the ads are enjoyable to look at. I have found several great blogs, and shopping sites from YouData. They continue to pay on time every single Friday via Paypal. This payment is only for $0.57, but I've continued to say this time and time again… "every little bit adds up!"
Last but not least, I've managed to sell some ad space recently here on my blog. So here's a payment I received for paid advertising. I've blacked out the sender and his email as to keep the transaction confidential.
These payments add up to $76.18 and they bring my total earnings online to $9838.98!
An update for my international readers (those that do not live in the United States), coming up next… stay tuned!

My real name is Reanna but around the web, especially in the MMO (make money online) world, I'm referred to as TriNi. On this blog, I aim to teach people that it CAN be done; that there are legit and 100% free ways to make money online.