Hey there!
Thought I'd do a short update with a few payment proofs of money I've made online lately.
But before I post those, just wanted to say hope everyone had a joyful holiday! Mine was pretty good .. quiet, but still very nice. And my birthday yesterday was fabulous as well. I'm 23. I can't believe the time is flying by so fast.. I still feel.. and look, 16. :/ It might sound like a good thing but sometimes you just want to look your age and not have everyone tell you you're too young to drink and then ask for your ID LOL.
But well anyway.. I digress.
Here is my recent payment from YouData.
Here's also another payment I received for a survey I took from Pinecone Research.
And last but not least, I've gotten a payment from Cloud Crowd. This payment came solely from the work of my referrals since I haven't done work there in a while. However, I read their last email update and it seems like they've been making some really good changes when it comes to the work you can do and get paid via PayPal. Be sure you sign up for the "work update" emails from Cloud Crowd because whenever they put out new work, it literally goes like "hot bread".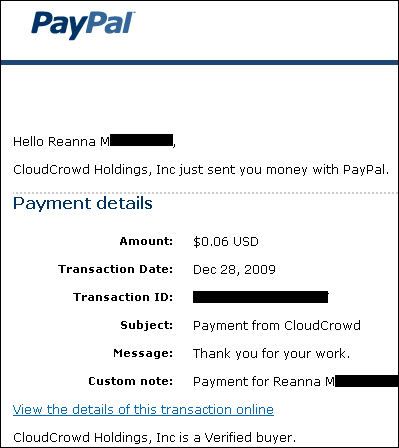 That's $4.23 added to my online total which brings it to $4316.78!
Hard to believe I started at $0 huh?

My real name is Reanna but around the web, especially in the MMO (make money online) world, I'm referred to as TriNi. On this blog, I aim to teach people that it CAN be done; that there are legit and 100% free ways to make money online.