Like I mentioned a post or two back, I recently started back college, trying to finish my Bachelor's Degree in Business Administration (Accounting), so between that, taking a couple vacations over the summer, and also still working full time and taking care of a household, life has kept me pretty busy! However, I have still been making money online from this blog and several of the sites that I work on doing surveys online in my spare time.
I get a lot of comments sometimes about how to make money on survey sites without referrals. I do understand that the majority of my earnings that I post, is from referrals, but that is only because I have worked hard developing this blog and I can now enjoy those benefits. However, I started off just like everyone else with zero knowledge and zero referrals, and I still DID make money online! I completed free offers and surveys, and got paid. It was not as much as I earn currently, but I still made money, for free, without spending a cent of my own.
If you go back to my first Cashcrate payment on this blog, it is for $57.72. That was made without any referrals what so ever. So my point is that it CAN BE DONE!
Anyway, without further due, here is how my total earnings for the month of August added up. As usual, click on the images for a larger view. They will open in a new window.

Cashcrate paid me $229.16. This is my 31st payment from this company. If that doesn't tell you that they are a 100% legit way to make money on the internet, then I don't know what will. Don't fall for those scams and gimmicks out there. Don't spend money on some useless eBook. Cashcrate.com is 100% free to join so what do you have to lose? They now have over 3,000,000 members! I always give
Cashcrate credit for my online earning success, because after getting my first check from them, I realized the potential of the Internet when it comes to making money.

I also got paid from Google Adsense in August. The actual amount of the payment is blocked off for privacy reasons, because I am unsure of Google Adsense's policy when it comes to disclosing earnings. I have seen others do it with ease, but I prefer to be cautious as they are quick to ban. I can tell you that it is approximately $125. For those international readers (outside of the US) that always comment asking me about ways to make money online in their country, Making Money Online Blogging With Google Adsense is something that is available to all countries. It is a little more difficult than just doing surveys though, and might take some serious interest, dedication, and effort to learn how it works. But again, it CAN be done.
Now I'll move on to all the Amazon Gift Cards I earned from some of the "paid to search" sites that I am a member of.



I earned two $5 Amazon giftcards in August from Swagbucks, one $20 Amazon giftcard from Zoombucks, and two $5 Amazon giftcards from iRazoo. These three sites are very similar in that they all started off as "get paid to search" sites. This means by using their search engine in the same way you would normally use Google to perform searches daily, you earn "points" (all called various things on each site) and these "points" can be redeemed for giftcards and prizes in their prize shop. All three sites have now developed over time and have added new ways for their members to earn "points" besides searching. Some have surveys, tasks, promo codes, treasure hunts, rating sites, and other fun ways to earn. These sites are great for some extra cash! Swagbucks also has PayPal giftcards where you can redeem your "points" for cold hard cash, if you are not interested in Amazon gift cards. Zoombucks just had a major transformation on the site, with a new fresh layout and some new features added, one of those being the addition of PayPal gift cards as well! If you think you can earn a living from these sites, think again. If it was that easy, we would all be doing it! Heck, I would quit my job! These sites are only good for some extra cash and added incentives for something you're already doing anyway. They are all 100% free to join.
Last but not least, here is a list of my PayPal payments for August.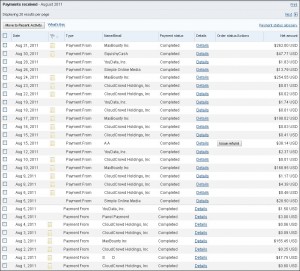 August 1st starts off with Cloud Crowd. There are several payments from Cloud Crowd, but they are very little because they are all from referral earnings. I have not had any time to do work here myself lately. Cloud Crowd is an app on Facebook, where you can complete work and get paid via PayPal. For more information on how it works, you can read How To Make Money On Facebook With Cloud Crowd.
The payments from S__ D__ and AA, are private clients of mine that purchased advertising here on my blog. Their names are blocked out for privacy reasons.
There are five weekly MaxBounty payments. This affiliate marketing program has been my biggest earner lately.
The "Panel Payment" is from Pinecone Research for a survey I completed.
YouData has also continued to pay me weekly. This is probably one of the easiest sites to make a few bucks on from getting paid to click ads.
"Simple Online Media" is the GPT site Dollar Click or Sign Up, who paid me twice in August.
And towards the end of August, I got a payment from another GPT site, Squishy Cash.
All these payments have a combined total of $1627.22 for the month of August!
Now I understand that compared to those big fishes in affiliate marketing that make thousands online per month, this might seem like nothing. But just to give you some insight of how much money that is to me, I'll tell you it's more than I make at my day job per month! Yes, it is! Off course that doesn't mean I am going to quit my day job because I make more money online. Instead I prefer to count it as additional income; money I make in addition to my regular salary at work.
Anyway, let's move on to the month of September.

My payment in September from Cashcrate was for $517.83!

I also got paid again from Google Adsense for an estimated $120. Getting paid two months in a row is a good sign for this blog, Make Money Online. It means my traffic is rising and so I am earning more money.
In September, I got paid a total of $372.81 via check and Paypal from another affiliate marketing company that I work with; Logical Media. Their payment terms are a bit more "delayed" and so it takes a longer time to get paid, but never the less, money is money and I am happy to say that they do in fact pay their members. Here are the two payments I received in September from Logical Media.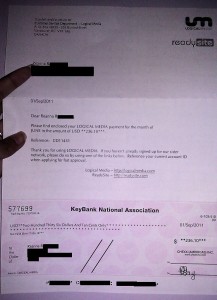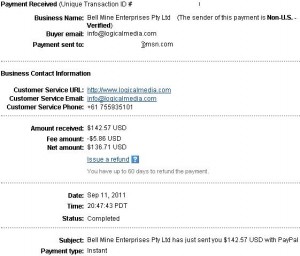 Here is another check for $51.25 that I received from a paid survey site called GlobalTestMarket. This is probably one of the few survey sites that I still participate in whenever I have spare time. They award you points for completing surveys. When you reach 1000 points, you can cash out for $50 via check. This is my second payment from GlobalTestMarket. And just to let you know, this money is all my own work. There is no referral program here. I earned this by completing surveys myself!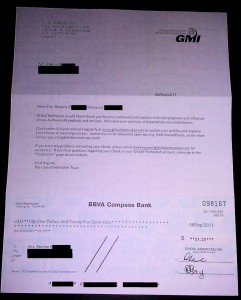 And now here are the free amazon gift cards I received from "get paid to search" sites. I earned four $5 giftcards from Swagbucks, and one $10 giftcard from Zoombucks for a total of $30 in Amazon giftcards. These sites also pay via PayPal if you are not a fan of Amazon.


And lastly, here is a list of my PayPal payments for September.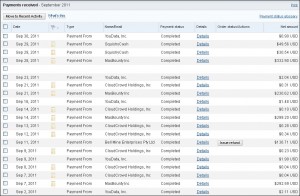 YouData paid me every Friday of every week, just like they always do. For more information on how you can get paid to click ads on YouData, read YouData – The best PTC site..
There are four weekly payments again from MaxBounty. I am so happy I decided to take that plunge into learning about affiliate marketing because it has definitely been paying off for me!
It seems as though a referral of mine did some work on Cloud Crowd again, and I got some payments from that. These payments are very small though, because the referral percentage on Cloud Crowd is only 10.1% of what they get paid. For example, if someone does the work themselves and earn $5, I only get paid $0.51. So as you can see, it is much better to do the work yourself on Cloud Crowd that rely on referrals. Contrary to popular belief, referrals are not the best way to make money on EVERY program. Sometimes it pays to do the work yourself!
As you can see, the "Bell Mine Enterprises" payment from Logical Media, which I already accounted for above.
And again, towards the end of the month, there are two payments from Squishy Cash.
All these payments have a combined total of $2337.16!
This is the first time in my history of making money online that I crossed the 2K mark in one month! Off course it doesn't mean that will happen every month from here on, and it is important that I state this. A few of these payments have been long coming and only because they all happened to come in the same month, sort of put me over that $2000 mark. But it still is exciting for me to see those numbers add up!
The money I earned in the months of August and September, brought my total earnings to $20,286.43 since I have been making money online!
This I am very proud of! It just goes to show that hard work and determination pays off in the end. For those that have been following my blog from the very beginning, they will be able to tell you that I definitely EARNED every penny of that $20,286.43!
For anyone that's looking to make some extra money to buy Christmas presents this year, then these sites might be a great way to start earning money for Christmas.
Have a productive week ahead everyone!

My real name is Reanna but around the web, especially in the MMO (make money online) world, I'm referred to as TriNi. On this blog, I aim to teach people that it CAN be done; that there are legit and 100% free ways to make money online.