I've been backlogged a bit when it comes to posting payment proofs on this blog, so today I'd like to post a few payments I've received from some of the GPT (get paid to) sites I work with online.
If you are not sure what a GPT site is and how it works, there is a ton of info around my blog. Look around, and be sure to check out my tutorial on how to complete an offer on GPT sites, because it'll be useful if you decide to use GPT sites to make money online.
Ok, so let's start with Squishy Cash.
This has become probably my second favorite GPT site lately, after Cashcrate. My reasons for saying this are because they've majorly upgraded the site recently, and added a lot of good promotions and different ways to make money.
- They offer $1 bonus simply for posting your proof of payment on their forum (which I do every month!)
- They have SquishySlots which is like a slot machine that you can use your Casino chips (like points), to play and win cash or more chips! I have won several times.
- They constantly have contests and promotions on a daily basis where you can earn and win more cash for participating on the site!
For example, here are some of the promotions they are having for the month of August.
The PayPal Promotion!
Earn $10, Win $3.50!
August 3 only. Ends at 11:59pm EST.
Reach $10 in offer earnings and get $3.50 in free PayPal money!
A few hours after midnight on August 4, we will send your bonus to the Verified PayPal account listed in your profile. If no PayPal address is listed or if it's unverified, we'll add the $3.50 to your SC account balance.
This promotion is only good for your first $10 in offer earnings. You can only win once.

The August Earnings Bonus Promotion!
August 1-31. Ends at 11:59pm EST.
Make $2 in cash offer earnings 25 out of the 31 days in August and win $50!
All winnings will be added to accounts on the night of August 31.

Squishy Scrabble Game!
Earn $1, Win a Letter!
August 2-4. Ends at 11:59pm EST.
Each time you make $1 in offer earnings, you'll win a random letter!
The more letters you earn the more money you'll earn.
Each day of this promotion, around midnight, you will receive a letter to your SquishyCash inbox. Hold onto these letters until August 5 and then submit the word(s) that you can make out of the letters that you've earned. You can do this via the SquishyCash inbox. Each letter will have a specific value attached to it and if you cannot put a word together, submit the letters you've earned and you will win the face value of the letters. Letters cannot be used more than once. If you can make a word out of your letters, you'll receive a bonus! Below are the amounts each letter is worth and also listed are the bonuses for the length of words. Each letter you receive can only be used once.
You can earn an unlimited amount of letters during this promotion!
Current stats for this promotion!

For example, if you have the letters A B D E G "BADGE"

B – $.10 A – $.05 D – $.10 G – $.10 E – $.05 = $.40 + (5 letter word bonus $2) = $2.40

$.05: A, E, I, L, N, O, R, S, T, U
$.10: B, C, D, G, M, P
$.15: F, H, V, W, Y
$.20: J, K, X
$.25: Q, Z

2 LETTER WORD: $.25 BONUS
3 LETTER WORD: $.50 BONUS
4 LETTER WORD: $1 BONUS
5 LETTER WORD: $2 BONUS
6 LETTER WORD: $3 BONUS
7 LETTER WORD: $5 BONUS
8 LETTER WORD: $6 BONUS
9 LETTER WORD: $7 BONUS
10+ LETTER WORD: $10 BONUS

*All words will be verified by the scrabble.com website.

August Completion Contest!
Win Cash, T-Shirts, & Hats!
August 1-30. Ends at 11:59pm EST.
The top 25 members who have the most offers approved will win a variety of cash prizes! 1st place wins $50!
The top 5 spots will also win a SquishyCash t-shirt or hat. After the contest ends, inbox messages will be sent to the top 5 spots in order to determine whether he/she would like a t-shirt or hat.
Cash winnings from this contest will be added to accounts instantly at contest end!
These are just some of the awesome promotions going on this month, where you can win more cash! Here's my recent payment (8th payment) from Squishy Cash.
The next GPT site I've gotten paid from recently is Deal Barbie Pays
I've actually received two payments from them recently. Only because for a limited time, they are offering daily payouts! That's right. If you reach payout of $20 and request it, you will get paid the same day! This promotion is only good for a limited time so hurry and take advantage of it. Usual payment schedule for this site is Net 35. Which means 35 days after the last day of the month in which you request your payment. However, payments are usually done much earlier, and this "Net 35″ phrase, is just for safety measures.
Here's my 17th and 18th payment from Deal Barbie Pays.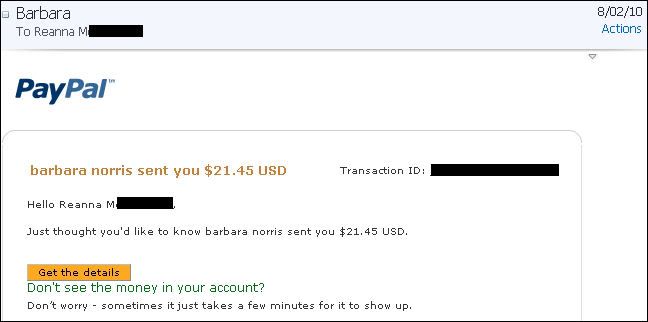 As I'm on the topic of Deal Barbie Pays however, I must let you all know that I have officially resigned as a moderator on the DBP forums and chat box. My reason for doing this is simply because I cannot find the time anymore to be as active in there, and do the work that needs to be done! After getting married and moving out on my own, my schedule has become a lot more complicated and I now have more responsibilities throughout the day. It just seems like I can't find the time anymore to moderate there, and so I've decided to give others a chance that have been a lot more active than I have recently! I'm sure they'll do a great job, and I'll continue to be a regular member of this site.
So that is it for payments from GPT sites I've received recently. I will do another update soon, with a few more payments I've received from other ways to make money online. And after that, I'll be sure to update with my total earnings for the month of July. So stay tuned!
These payment add up to $63.94, and brings my total earnings online to $8480.40!

My real name is Reanna but around the web, especially in the MMO (make money online) world, I'm referred to as TriNi. On this blog, I aim to teach people that it CAN be done; that there are legit and 100% free ways to make money online.