It's not hard to make money online. I'm 22, and all I was interested in before this was changing my Myspace layouts, seeing what's new on Facebook, and off course, dancing around my house occasionally to blasting music.
I still do the latter, and I still keep in contact with my friends and family on Facebook and Myspace, but now, I've found something much more productive to do with my spare time online; make money.
I'm loving every minute of it. It's definitely a challenge everyday but I love the challenge. Even though I am not making thousands of dollars a month, it's very fulfilling to get money in my PayPal account and know that I worked for it.
While I haven't been working full time again since I quit my job earlier this year, I've definitely been spending my time home productively and this part time income I make from making free money online is definitely helpful!
Anyway, I guess I was just reminiscing a bit. Here are some proof of payments and updates to keep you busy.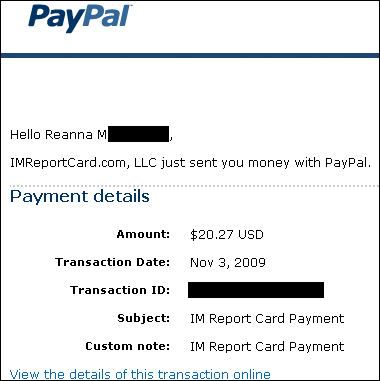 IM Report Card has also implemented a new feature called Rebuttal. This feature allows owners of products and services that are graded on IM Report Card to have a say. For example, if someone comments something that is totally off or wrong about their product or service, they can comment in reply to that person with their rebuttal. Also remember that on this site, comments must be over 50 words to be approved however they must be over 100 words for you to receive credits. This is to encourage members to use the site the right way and not just comment every single thing.
I've also gotten a second payment from Cloud Crowd. If you have a Facebook account like have of the world and you'd like to make money with it by doing online work, please read Cloud Crowd – How To Make Money On Facebook!
In my last update about Cloud Crowd, I mentioned that one of the problems they were having was not enough work available since they're fairly new. Well it's nice to see that they've been working on this problem and now they have a feature where you can be alerted via email whenever there's new work! I just received an email today in fact, I logged in, and I completed some tasks! I think this is a wonderful new feature and it really helps not having to constantly check the application for new work. To be alerted, just simply go to the Cloud Crowd application, and there would be a green button at the bottom of the Available Work page that says "Get Notified When New Work Shows Up". Click it, and it would prompt you for your email address. Fill it out and whenever they put up new work, an email will be sent to you!
Those two payments have a combined total of $20.32 and they bring my total earnings online to $3342.45!
Two more updates when it comes to GPT sites.
Deal Barbie Pays sent out a mass message this morning informing their members that they no longer pay via checks.
We have gotten rid of the check cashout method as a form of payment. Too many members that are requesting checks are not receiving them. Our bank charges us $32 to stop payment on a check, and for a $20 check, its not worth it. All pending check cashouts have been denied and the funds returned to the members account. The funds will need to be cashed out by another method. We offer Paypal, Amazon, Walmart, and iTunes for cashouts.

If you do not have a PayPal account, one can be setup for free at www.paypal.com
Also there are some new promos that started on Squishy Cash!
- The Get Squished Game! Get Squished for Every $2 Earned!
November 3rd-7th. Ends at 11:59pm EST.
Each time you reach $2 in offer earnings, you'll be sent a Squishing to your SquishyCash inbox!
These Squishings may contain a special prize!
Each day of this promotion, a few hours after midnight, you will receive a Squishing to your SquishyCash inbox. To see if you've won a prize, simply open the inbox message and click the image to see if you've won. If you win a prize, you must reply to the message stating the prize won, and once verified, we will credit your account within 24 hours of your inbox response to the Squishing.
You can get squished an unlimited amount of times during this promotion!
- Squishy Scrabble Game! Earn $1, Win a Letter!
November 4th-6th. Ends at 11:59pm EST.
Each time you make $1 in offer earnings, you'll win a random letter!
The more letters you earn the more money you'll earn.
Each day of this promotion, around midnight, you will receive a letter to your SquishyCash inbox. Hold onto these letters until November 7th and then submit the word(s) that you can make out of the letters that you've earned. You can do this via the SquishyCash inbox. Each letter will have a specific value attached to it and if you cannot put a word together, submit the letters you've earned and you will win the face value of the letters. Letters cannot be used more than once. If you can make a word out of your letters, you'll receive a bonus! Below are the amounts each letter is worth and also listed are the bonuses for the length of words. Each letter you receive can only be used once.
You can earn an unlimited amount of letters during this promotion!
That's all folks!


My real name is Reanna but around the web, especially in the MMO (make money online) world, I'm referred to as TriNi. On this blog, I aim to teach people that it CAN be done; that there are legit and 100% free ways to make money online.