Hey guys!
It's Columbus Day here in New York, and thankfully, my job type allowed for me to be off! Hubby isn't though.

Anyway, I figured there was no better time than now for me to get some online work done, so today I'd like to post some payments that I received recently. These are tiny payments from some of the smaller sites I work with, doing very EASY work. Therefore, it's obvious, that you would not be able to get rich or make a lot of money doing these things.
Firstly, here are two payments I received from YouData, which is a paid to click site. You get paid to click and view ads on this site. It's the ONLY paid to click (PTC) site that I belong to, because I really like the fact that they pay more per ad than any other PTC site I've found. I also like that there is no minimum payment threshold, and you get paid whatever you earn, every single Friday, via Paypal.
My only gripe with this site, is that there are not that many ads to click on a regular basis. But my referrals have been earning me little by little every week, so I'm guessing at least they're getting ads to click and making money with YouData!
These are actually my 74th and 75th payment from this company, so you know that they are legit and do pay their members!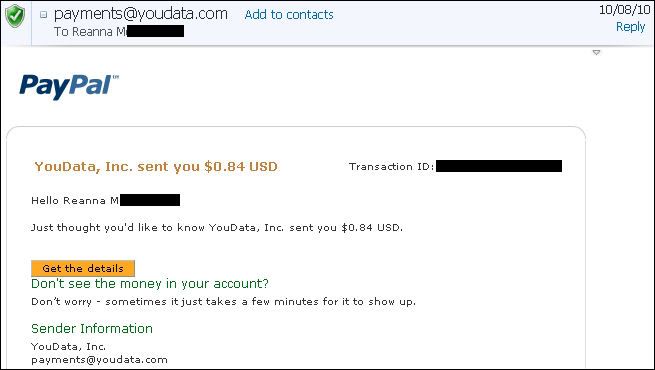 If you're interested in finding out more information about how to click ads and get paid on this site, check out: YouData – The best PTC site.
Another site I got paid from recently is Cloud Crowd. This site is actually a Facebook application, which makes it so much easier because almost everyone and their brother has Facebook recently! So now instead of playing games all day like Bejewelled, FarmVille, FrontierVille, and whatever other games are out there today, you can work online from home and make money!
Cloud Crowd is hard to put in a category, there are TONS of different types of work to do there. There is data entry, research work, proof reading and editing, etc. The list goes on and on. I'm sure you'll be able to find something you can do and make money. In fact, I just logged in and saw they had a "sing song" task, where you get paid for SINGING! Each of those tasks is worth 25 cents, so if you completed 4, you've just earned yourself a buck!
This payment came strictly from the work of my referrals, I haven't had much time myself to work on this site lately, but I know of someone who does spend time working on this site, and earn quite a lot on a monthly basis! Check out my friend ebele's September's earnings where she made over $100 on Cloud Crowd
Check out this post for more info on How To Make Money On Facebook With Cloud Crowd.
So these payments add up to only $1.45 and it brings my total earnings online to $9840.43!

My real name is Reanna but around the web, especially in the MMO (make money online) world, I'm referred to as TriNi. On this blog, I aim to teach people that it CAN be done; that there are legit and 100% free ways to make money online.