Hey!
Well it's a quiet Sunday evening here in New York. Not sure which part of the world you'll be reading this post from.
Just had a few "make money online" updates to post, and some payment proofs, etc.
I really hope everyone had a nice weekend.. and a great Thanksgiving. Mine was really nice and I spent it with my friends and family and loved ones.
Anyway, today's post is about Squishy Cash since I received my payment today for the month of October.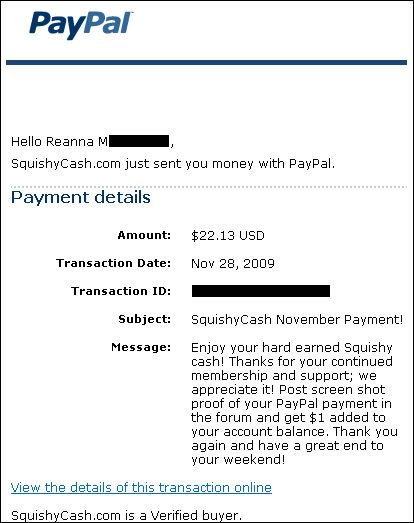 This is my 3rd payment from Squishy Cash and like I posted a little while back, this site just keeps getting better and better. I also got $1 bonus added to my account for posting my proof of payment in their forums! That's another quick and easy buck I made, just for posting my payment proof.
If you'd like to learn more about Squishy Cash and all the cool ways to earn money with this site, feel free to read the following post where I even compared it to Cashcrate which is one of the top sites in the GPT industry!
Is SquishyCash A Scam? Is It Better Than Cashcrate?
Today they even had an awesome promo going on where everyone that had 1 offer completed got $1 bonus! It runs for today, Sunday 29th November 2009, and I'm sorry I hadn't posted about it earlier, but if you hurry you might still catch it!
I completed one offer today and got it credited and got my bonus instantly!
Here's a hint:
If you aren't sure which offer to complete, check out the Last Credited Offers box, and try one of those.. chances are you'll get it credited before tonight and get that bonus!
This payment of $22.13, brings my total online earnings to $3821.41!

My real name is Reanna but around the web, especially in the MMO (make money online) world, I'm referred to as TriNi. On this blog, I aim to teach people that it CAN be done; that there are legit and 100% free ways to make money online.