This year is quickly coming to an end, and I'm finally here to post to total amount of money I made online in October and November of 2011.
As I said in a previous post of mine, my earnings took a dip in the month of November and I can only attribute it to a few things:
1. Google's Panda Update
2. My lack of continued Off and On Page SEO on this blog
However, being that I am back in school now, I must put advancing my education first, because it's the only sure thing that will pay off in the future. As much as I love blogging and making money online from this blog, I continually stress how important it is to have something else to fall back on, because making money on the internet is never a "sure thing"! In fact, if you read my post Why Making Money Online Is A Good Additional Income Only, you'll understand why I'm putting my blog on the back burner for now. I am securing my financial future through bettering my education.
So let's start with the month of October. Here are my proof of payments. Click on any image to see a larger view, it opens in a new window.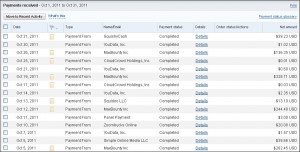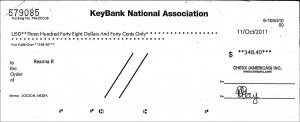 As you can see from the above images, here's how my earnings for the month of October 2011 added up:
Cashcrate: $253.61
Google Adsense: $125 (estimated for privacy purposes)
MaxBounty: $991.91
Dollar Click or Sign Up:
Cash = $39.66
Amazon Gift Card = $20
YouData: $5.54
Zoombucks:
Cash: $20
Amazon Gift Cards: $10
Squidoo: $13.10
Cloud Crowd: $0.04
Squishy Cash: $39.23
iRazoo: $5
Logical Media: $348.10
Total Earnings In October = $1873!
Let's jump to November now. Here are screenshots of all the money I made in November.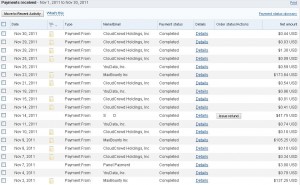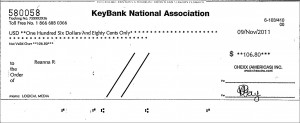 Here's how November added up:
Cashcrate: $228.02
MaxBounty: $416.34
YouData: $3.07
Cloud Crowd: $3.36
Private Advertising (S__ D__): $47.75
iRazoo: $30 in Amazon Gift Cards
Logical Media: $106.80
Swagbucks: $25 Amazon Gift Card
Total Earnings In November = $863.34!
If you're a new visitor to my blog, and you're confused about all these different sites where you can make money online, please browse through my blog to find more information. Use the search bar on the left panel. There is A TON of information about each one of these sites and how they work!
One thing to note is that Dollar Click or Sign Up was recently sold, and is under new management; Gina. She seems really nice so far, and sent me my Amazon Giftcard within days of redeeming it this month!
Also, the option to get paid via PayPal was removed. You can now get paid via AlertPay, Liberty Reserve, MoneyBookers, Amazon GiftCards, and Walmart GiftCards.
Anyway, as you can see, my earnings dipped by more than half! BUT, like I always say, I started from zero ($0.00), so I am still grateful for whatever money I make online. It is extra cash that I didn't have before.
I will try my best to pick up back my earnings by posting new fresh content on this blog more often, and by building more backlinks, however, with my current schedule at college and work and taking care of the house, it's very difficult to find the time to do this.
Either way, these two months added up to $2736.34 in free money I earned online! This brings my total earnings online to $23,022.77!
Have a great weekend everyone, and more posts on SEO and traffic tips to come soon!

My real name is Reanna but around the web, especially in the MMO (make money online) world, I'm referred to as TriNi. On this blog, I aim to teach people that it CAN be done; that there are legit and 100% free ways to make money online.