Hope everyone had a productive week. Mine was hectic, but at the same time, enjoyable. Here are a few payments I've received recently.
Pinecone Research paid me for completing one of their surveys last week. They actually sent the payment the following day, after I completed the survey. Doing surveys online is an easy way you can make money in your spare time. Pinecone Research pays $3 per survey completed. They usually send me about 3 or 4 surveys per month, more or less. This money easily adds up and can be used to put towards a bill, buy gas (even though I don't own a car), buy food, etc. It's easy money that takes less than 10 minutes of your time online.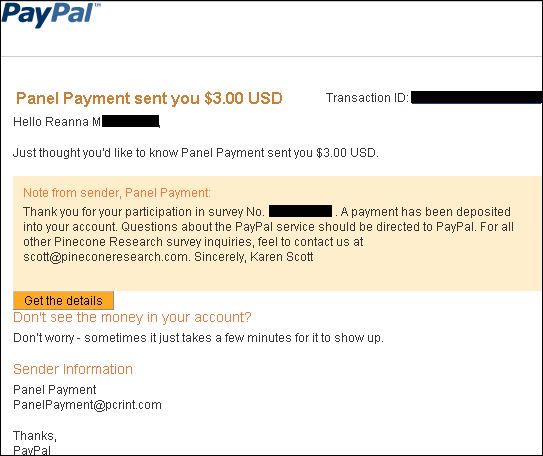 YouData which is a "paid to click" site, has also sent me a payment. This site pays on time every Friday! You can make a few extra dollars to even buy a gallon of milk, just by clicking and viewing some ads online for a few minutes of your time.
And last but not least, if you'd like another way to earn money in your spare time online, Cloud Crowd is an easy way to do so. Cloud Crowd is a Facebook application that connects people that want to work, with people that want work done. How this application works, is that companies provide Cloud Crowd with descriptions of simple tasks they want done. Eg, labeling, categorizing, summarizing, etc. This is easy work that can be done from the comfort of your home and you will be compensated with cash via PayPal.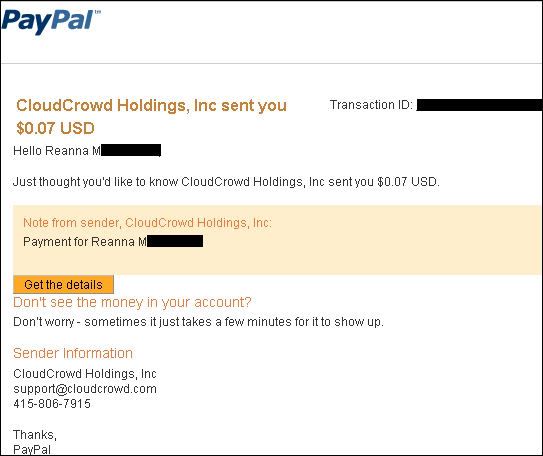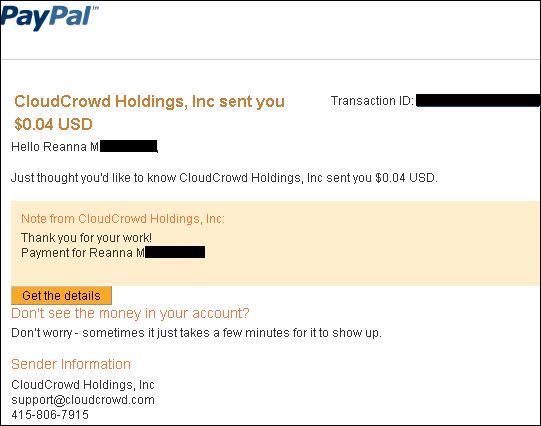 These are three extremely easy ways to make money from home in your own time. These jobs are extremely flexible and you can work from home whenever you like, and make money online free.
These payments add up to $4.02, and bring my total earnings online to $5480.82!
Have a great weekend everyone!

My real name is Reanna but around the web, especially in the MMO (make money online) world, I'm referred to as TriNi. On this blog, I aim to teach people that it CAN be done; that there are legit and 100% free ways to make money online.