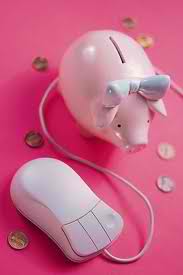 Won't we all love to be able to make a living online? Make enough money online so that we could all quit our 9 to 5 day jobs and stay at home with our families and loved ones? It sounds like a dream come true… and to some, like John Chow and Jeremy "ShoeMoney" Schoemaker, it probably has been!
However, today, after reading some "awakening" news online, I am here to emphasize why making money online should only be an additional income. By this, I mean that you should not depend on the money you "might" earn online to pay for the everyday needs of life. You should ALWAYS have a back-up plan. In other words, "Don't Quit Your Day Job!"
Now, for many people who are already stay at home parents or are unable to work at a real job outside of their homes for whatever reason, working from home and making money online might sound like the perfect solution. And so it might be… but they should still be aware that nothing is guaranteed online, and while you might make several hundreds or even thousands this month, you are not sure about having those same earnings the following month.
Anyway, recently, there has been a recent change in Google's algorithm, and many sites have been affected. For those that don't know what this means; "Google's algorithm" is the 'formula' Google uses to rank sites in their search results. It's the difference between a site ranking #1 and #10 for the same keywords. There are a lot of theories about this formula Google uses, but no one knows for sure exactly what it is. It is said that backlinks play a major role, however, it is definitely not the only factor that determines the SERP (search engine ranking position) of a site on Google.
Some of these sites affected by this change, include eZine Articles, Suite101, Associated Content, Free Downloads Center, Essortment, American Towns, Article Base, Find Articles, Business.com, FAQs.org, Buzzle.com, BizRate, Shopping.com, Squidoo, and Hub Pages.
That's quite a few sites, but there are even more that's taken a hit. Answer sites like ChaCha.com and Mahalo has been cutting costs, which sometimes means laying off workers, and LiveWork.com decided to shut down for good. Most of the people that worked on these sites were freelancers, working from home. I am sure several of them even depended on this income to pay bills and put food on their table. Now, all because of a simple tweak on Google's end, they no longer have this income.
For example, a personal friend of mine was making about $300 per week on LiveWork answering questions! That is almost similar to a full time salary you would earn from a regular 9 to 5 job! However, because this site decided to close down for good, giving their members less than 24hrs notice, my friend is now forced to search for other means of making this income. This is never easy. My friend is a stay at home mom, so this is by no means hear fault! She simply decided to use her spare time at home, while taking care of her kids, to earn some extra money, which is commendable on her behalf. Luckily, she still has her husband who makes a stable income outside of the home, so they won't starve at least. This was simply her "extra cash".
Whereas, if someone realized that they were making $300 a week from LiveWork, and decided to quit their job and do it "full time"… because the income was sufficient to cover their bills, then they would probably be shitting their pants right about now, because they would be out of a job.
These changes do not only affect manual workers who contribute to these sites, but because some of us bloggers depending Google's rankings for traffic… or even have backlinks on some of these article sites mentioned, like Ezine and Squidoo, it can directly or indirectly affect our rankings, traffic, and ultimately, our earnings.
For example, let's say your blog or website ranked #1 on Google for the term "make money online" (without quotations) and for some strange reason, or change by Google, they decide that your site does not deserve to be #1 anymore and so they move you down to page 5… or even worst, they ban your site altogether from their search results! Sounds too drastic? Well it's not! It has happened before, where Grizzly Brears, owner of the popular makemoneyforbeginners.blogspot.com, which held the #1 position for "make money online" (without the quotation marks) on Google for quite a few years, simply vanished from the search results… or the top ones at least! Grizzly's explanation, was that with some experimenting on his blog, he unintentionally triggered Google's spam bot, and so his blog got marked as spam and removed from the search results. He didn't do anything wrong, per say, but so it is with the big "G"! At a moment's notice, they can find a "fault" and do as they please and ban your blog from their search results and there really is nothing you can do about it. Who will you complain to? Even though this blog made Grizzly quite a decent income, and I'm sure it made Google some money as well since he did use Adsense, Google just didn't seem to care!
In case you're wondering, Grizzly never got his site back to position #1, but he has moved to his own namesake domain and continues to teach others about Internet Marketing. He is quite a good teacher too, so I do recommend you check him out if you're willing to learn. He has also backed up all his posts from his "Make Money Online for Beginners" blog there, so you'll have lots to read.
Anyway, my point today is, "don't put all your eggs in one basket!". And perhaps, I sorta should be taking my own advice since this is my only money making blog, however, I just really don't have the kind of time and effort to put into making another one right now. While it is a great thing to make money online in your spare time, you must take it with stride and know that nothing lasts forever. At the same rate you make the money, you can also lose it all in a split second. Be prepared for the consequences of BOTH situations.

My real name is Reanna but around the web, especially in the MMO (make money online) world, I'm referred to as TriNi. On this blog, I aim to teach people that it CAN be done; that there are legit and 100% free ways to make money online.